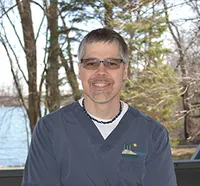 Philip Mikesell, DDS, MS
Dr. Phil Mikesell, a Lima native, followed his father, Alan, into the practice of Dentistry. He received his D.D.S. with honors in 2001 from The Ohio State University, and also completed his endodontic training and M.S. in Oral Biology from The Ohio State University in 2003. His master's thesis was on local anesthesia of the lower jaw. He received his BS in Biology and German from Heidelberg College in 1992, and worked toward a Ph.D. in Biochemistry and Molecular Biology from 1992-1997 at the Medical College of Ohio in Toledo.
He is a member of the American Dental Association, the Ohio Dental Association, The Northwest Ohio Dental Society, the American Association of Endodontists, the Ohio Association of Endodontists, and the Christian Medical and Dental Association. He is a Clinical Assistant Professor and teaches Endodontics to dental students and Endodontic residents at The Ohio State University.
Dr. Mikesell strives to make endodontic procedures as easy as possible for the patient, done with the safest and best technology in order to give each patient the best possible long term prognosis. His focus is to demonstrate the love of Jesus to each patient, each day. He and his family are active members at Cable Road Alliance Church in Lima, and have travelled abroad to Honduras, Ecuador, and Senegal providing dental care on mission teams. Dr. Mikesell resides in Lima with his wife Nikki and two children. In his time off he enjoys playing tennis. He is gregarious, grateful and family-oriented.
---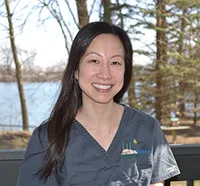 Grace S. Evans, DMD, MS
Grace has been practicing for over 11 years in Endodontics. She has a M.S. and certificate in Endodontics from the Ohio State University College of Dentistry and a D.M.D. from Tufts University School of Dental Medicine. In her free time she volunteers for her children's school and church. She enjoys yoga, barre and spending time with her family.
---
Amy B. Forloine, DDS, MS
Dr. Amy Forloine attended the University of Illinois for undergraduate pre-dental studies. She received her degree from the University of Michigan graduating #1 of her class in 2001. She then completed a postgraduate residency in Endodontics at The Ohio State University for her Certificate in Endodontics and her Masters Degree in Oral Biology. Local anesthesia efficacy was the focus of her Masters Thesis research. She joined Endodontic Associates of NWO in September 2005.
Dr. Forloine understands that needing a root canal can evoke much anxiety in patients and she strives to be as empathetic to her patients' emotional needs as well as their dental needs. Her professional goal is not only to practice dentistry to the very highest standards, but to do her best to help her patients feel comfortable and at ease.
She currently resides in Worthington with her two children, Owen and Evie. Amy enjoys being a mother, exercising, playing fiddle, reading, eating healthy and cooking. She is honest, compassionate and strives to do her best work.